"My M.D. wanted to put me on a statin drug for high cholesterol. Thanks to Kristy, I was able to drop my number by 37 points! No nasty drugs for me."
"Scott planned a surprise (read: last-minute) trip to Colorado for us! We stayed in a townhome in Frisco and skied Copper Mountain for four days. Wow, what a memorable, God-kissed trip.
BTW, my heart and mind were so thankful the whole week that God led us to you.  Scott would have never been able to tackle the task of planning or implementing this trip if he wasn't feeling so much better. Know that you are an instrument in the hand of our Jehovah Rapha as you minister to the physical, emotional and mental needs of others.
Grace and peace,
Rosemary"
"In less than one week of working with Kristy, I was sleeping better. I usually let my alarm ring for about 40 minutes before I have the energy to get up to turn it off. Then one morning, I woke up before the alarm and I was ready to get up. It was a miracle!"
"This Thanksgiving Holiday was an ideal time to think of all the ways you have helped.
From the complete blood diagnostic test that showed deficiencies, you gave super ideas to adjust my diet and supplements.
The exercises you suggested strengthen hips and knees and ankles. My blood pressure is normal, walking is pain-free, and there is no stomach discomfort. My energy level has gone from 'I'm so tired I can't breathe' to 'I can get things done.'
The thoughtful, sincere care you showed gives me encouragement to continue with the changes and to do my part."
"My daughter had long-term digestion problems. After going to different doctors to no avail, we went to Kristy. Kristy literally saved my daughter's life through supplements and diet!"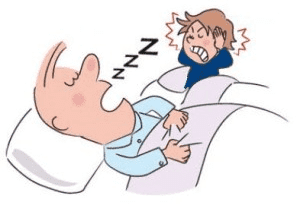 "My husband has suffered from sleep apnea and snoring for as long as we have been married. He has tried everything — from awkward mouth guards, nose strips and vocal exercises to, regretfully, minor surgery.
Kristy recognized his problem as inflammation, and in addition to implementing a low-inflammatory diet, she recommended specific supplements to heal the irritation of his nasal passages. We are amazed at the results we have had following Kristy's recommendations and couldn't be more pleased!"
"I really praise God for getting to know Kristy Hall. Before getting to know her,
I had met several physicians and natural doctors re
garding my health issue, but none of them could really help me. They did not care much about finding the cause of my problem. Kristy, on the other hand, from the first day, started working on my health issue, and she was very determined to find the cause of my problem through different tests. I believe Kristy is not only a nutrition specialist, she is far beyond that. She is a very kind, caring, determined, dedicated and responsible person. I have followed her advice and took the supplements that she provided for me. I am feeling much better now. My fatigue is improved, and my gut is working much better. My general health condition has improved from the day I started following her advice. I believe she is one of the best holistic nutritionists that I have ever met."
"I went to see Kristy for my IBS symptoms after experiencing no relief with the protocol the doctor prescribed. With Kristy's guidance we were able to determine additional 'culprits' that were causing issues. Not only are my symptoms improving, my chocolate and carb cravings are gone — and I've had them my entire life! As a side benefit I've dropped more than 30 pounds and my 'bad' cholesterol numbers are down to a range I haven't seen in years."
Living Well Nutrition
The Center for Epigenetic Counseling
Phone: 970-685-8531
Email: Kristy@LivingWellNutrition.com